Dosh App Review: Is It a Scam?
Posted by : Admin
Who didn't hear of cashback services that promise to pay you money back for every deal you make online or even in factual stores using their help? The conditions are always simple: just register on a site or get their card, download an app, and you are ready to receive some money back off your every transaction. The same situation we have with Dosh – the application that was launched at the end of 2017 and has been on the peak since then. It guarantees you beneficial terms of cashback and many other bonuses. But is the Dosh app safe and why you should trust it then? This is what we are going to shed light on in our article.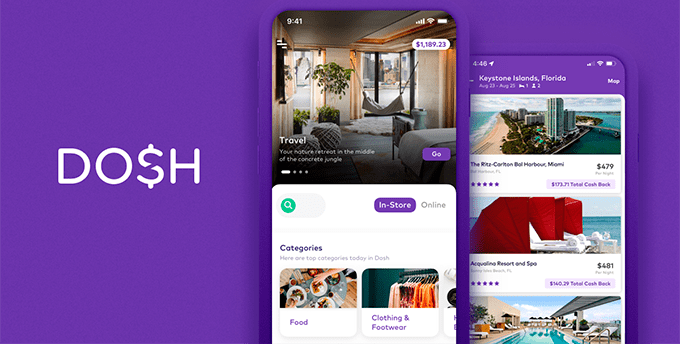 What is Dosh?
If you dive in the review about it on the Internet, most users and the developers of the Dosh app itself claims that this is the app to stay in the spotlight for long. They predict it to be ahead of its times at least for the next few years, and it offers conditions more favorable than those of the previous cashback giants. That is why many people believe it and choose Dosh in particular.
The approach is pretty simple after you install the app and adjust basic settings, you can go on with your affairs, do shopping online and really do not care less. Because the app claims to do the job for you with its huge variety of partnering merchants. Some of the offers an app claims to give you contain such considerable bonuses that it seems too good to be true. There's always free cheese in the mouse traps, but the mice there ain't happy, they say.
That is why people who make the choice of a cashback service, for example, because they are often involved in online shopping or just think twice before giving out the credit card details to a suspicious site, still wonder whether the app is legitimate. Have there ever been any Dosh scam examples or users are generally satisfied with using the app? Now we will take a closer look.
Dosh Review
To put it mildly, Dosh is an app for iOS and Android, offering you the cashback from all the deals you make using your own credit card that needs to be connected to the platform. No additional cards need to be opened. In addition, no sending the scans of receipts, no complicated process of entering promo codes or calculating the percentage of the cashback on your own. The app does this itself, and you shouldn't prove your purchases in any way which would take more time. This is, to our mind, the biggest advantage of Dosh, and many users would agree with us.
It doesn't take a rocket scientist to earn money using Dosh, for example, you can get cashback from the transactions and purchases you do regularly without even realizing it. The thing is, the app tracks which actions you do on a daily basis, and you will get money back each time you repeat it. Just register, do the first transaction and then it will be saved in your list. Every coin you earn using Dosh will be saved up on your account.
Linking your card is secure, and there is no need to worry about any Dosh app scam. After you do it, you can safely shop as before but enjoying small bonuses and special offers every now and then. All points will be locked inside your e-Wallet, and once the balance is more than $25, you can get change the points on money using the most convenient way.
The platform has been cooperating with various merchants, services, both physical, like shops or inns, and online brands, so you never know where you can get your cashback unless you study the long list of the app's partners. The best thing is that you do not have to because Dosh does the job for you and saves money to your account without you even noticing. Of course, to earn money, first, you have to spend it. So, cashback services are best for those who do a lot of shopping using credit cards and love purchasing online, if you are one of those shopaholics, Dosh will definitely come in handy.
How to Make Money with Dosh
Now let's talk about some major and minor ways you can actually make money using the services of a Dosh app.
1. Link Credit Card and Get $5
As you can already guess, the answer to the "Is Dosh a scam?" question is "No!" This means you should not worry about giving out your credit card details to this app even if you do it for the first time. And immediately after that, you will receive your first $5 to the account. What is no less exciting, the more cards you add, the more cash you will get.
2. Cash Back Off Online Purchases
The main feature of cashback services today is to save you money off online transactions as for the major part of people this is the most frequent way of spending money. If you link your card to a cashback service, it means it will calculate a small percent according to the special offers, by applying automatic promo codes or just following the partnership terms with a brand, and you will pay less or the rest of the sum you will spend regularly will be added to your bonus account. You can even make points off dating platform, for example, there have never been any Jump4love scam stories. This is a safe site you can use too.
3. Cash Back in Stores
Every new pair of sneakers, a dozen eggs or a journal will save you money up that you will get to your account. No need to keep track of the brands Dosh is partnering with, just go on with your shopping as you are used to and then check your balance for a pleasant surprise. Or anyways you can do a small research of what stores you will get more cashback and shop exclusively there for the biggest benefits.
4. Travel Cash Back
As we have mentioned, Dosh partners even with hotels, which means you can save up money abroad or traveling around the country and staying at specific apartments. Just book a hotel suite or a room using Dosh and get $25 to your account straight away. The sum will be added to your balance as soon as you finish your stay.
5. Dash Has Affiliate Program Too
Similarly to other world-wide services, the more friends you manage to invite to the app, the more benefits you will get. To do this, simply send them the affiliate code generated in Dosh through a private message, link or share it on your social network. And the more people use it – the more cash you will get, up to $5 for each of the new users.
What Are the Cashing Out Methods?
Everything is pretty clear after you accumulate at least $25 on your Dosh balance, you can get your money by cashing it out using PayPal or any other regular bank you use. No issues have appeared with people trying to get their money, so, is Dosh scam? We think that no.
Is The Dosh App Safe?
Analyzing the reviews and positive feedback of most users, the app is legit and completely safe. Of course, the App is still young and develops through the way of mistakes or small inconveniences but, in general, it is quite comfortable to use.
If linking your card to any services makes your heart beat faster, we can reassure you by saying that Dosh is of no capacity to store the credit card information of its users. And the data is tokenized and vaulted using Braintree. This is one of the PayPal services. And the former, as you know, have been tried and true for more than 20 years now. That is another reason why cashing out using PayPal is easy and safe.
As there have never been any Jump4love scams stories, we couldn't find any examples of them concerning Dosh. It seems to be a pretty convenient, safe and easy-to-use cashback service you should definitely try if you are a passionate shopaholic or often pay by card.