What Is a 419 Scam?
Posted by : Admin
We live in the era of infinite opportunities where you can become a millionaire or lose everything. So, you should keep your eyes peeled if you don't want to become a victim. There are a lot of ways that advanced scammers actively use to swindle money on the Internet just communicating with naive users all over the world. Every day there are various new strategies. You should know as much information about such tricks as possible in order to be able to protect yourself from different types of 419 Internet scam. Of course, some new strategies appear day by day, and it is very difficult to know about everything, but, nevertheless, you should be aware of at least the most popular ones.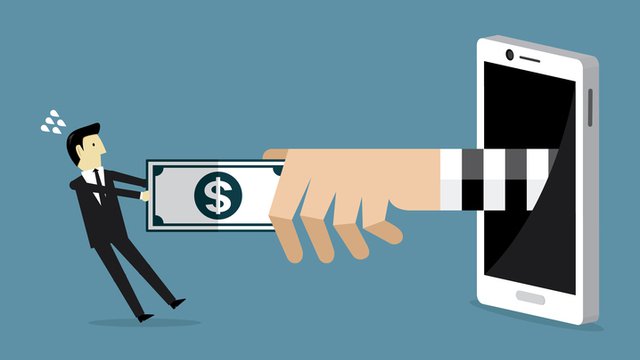 What is a 419 scam?
Nigerian scam is also called "419" in accordance with the article number of the Nigeria Penal Code, which prohibits any kind of fraud. Nowadays, 419 Nigerian scam is already a generic term, and it is not only about scam letters from Nigeria, it's about different types of fraud that you can face on the Internet. Most countries started receiving these messages in the early years of 2000 when people began to use the Internet quite actively. However, this phenomenon is much older. In the 80s, Nigerians sent faxes and letters by mail to Europe and the United States. In 2012, Microsoft researchers found that even despite the fact that scammers exist in all countries, 51% of 419 scam emails with the request to send money are still coming from Nigeria. According to the Advance Fee Fraud statistics, in 2013, Nigerian spammers coaxed $12.7 billion out of their victims.
The main goal is to get your money
Using special programs, scammers send millions of letters annually and receive dozens of replies. Having made contact with their victim and broken the ice, they start explaining the situation and, if necessary, send confirmation documents, call by phone and keep in touch with the person in every possible way. Often, scammers use real seals, forms of big companies and government organizations. Sometimes, real officials and bank employees of Nigeria participate in the process. The ultimate goal is to make the person set up wire transfer to the account of the scammer.
In 2006, Forbes had Prince Abakaliki of Nigeria, who is often mentioned in letters, in their list of 15 richest fictional characters with the capital of $ 2.8 billion. In the same year, a list of the most famous frontmen whose names are used by scammers appeared on the Internet.
Nigerian 419 scam example.
Most people have long been familiar with Nigerian scam, many of them received letters from one of the members of the Nigerian wealthy family at least once. This desperate cry for help is sent out daily to millions of e-mail addresses, and every time, the sender trustingly suggests cooperation in the transfer of a very large amount of money from the African country. There are a lot of options, starting with a rich widow to an American military guy who has accidentally run into the vast treasures of Hussein or Gaddafi. Usually, the sender of the letter wants to transfer their millions to the charitable organizations or invest in the business to raise the country's economy of a potential victim.
However, some scammers have a more elaborate plan and don't tell you about money from the very beginning, they just write you a teary-eyed letter.
Example of a heart-piercing letter
Hi Peter! Hope this letter finds you well. I want to be sincere with you from the first lines of my letter. I am looking for my one and only. I've studied your profile a little, but I still have many questions. I am very interested in communication with you. So, I would be very pleased if you give me the chance to introduce myself to you. My name is Katarina Carmel. I am 28 years old. I come from South Africa and I am the only kid of Dr. Christopher Carmel. My father was the head of "Carmel Commercial-industrial company" before he was arrested and killed because of faked conspiracy. Now I am under guard. I was doing my third year in the Art school before the incident. I would be glad to talk with you off-site, so please send me a reply to my personal email, and we will start from here. I am very interested in listening to all your stories, tell me something about your childhood. What do you like to eat for breakfast? What is your biggest dream? I will give you additional information about myself in the next letter. Look forward to hearing from you soon. Yours sincerely, Katarina Carmel.
419 dating scam
"Romantic" type of 419 email scam is a very popular one. It started gaining momentum together with the popularity of social networks and different dating services. Unlike many other dating sites, the jump4love scam policy prevents receiving such messages and protects you and your money.
Everything starts not when you get a letter but when you send a reply. When scammers receive your response letter, the real professionals get in the game. They are not just English-speaking poor Africans but graduated psychologists. These people make contact with the victim and do their best to get all necessary data such as your bank accounts, passwords, etc.
Sometimes, correspondence can last for months until the victim "ripens" to send money abroad. As a rule, the scammers have open accounts in the banks of different European countries in order not to arouse suspicion of the victims.
When you send money for the first time, the correspondence can continue (if the "client" is willing to pay more) or it can suddenly end. It is very difficult and almost impossible to find the scammer.
To learn more about the subject, read jump4love reviews.
Few cases of successful solutions to the problem
In 2014, it was the first time when the victim of romantic scam got back the money given to the scammer. The woman started communicating with a man named Gary in 2013 on one of the dating sites. Gary confessed his love and eventually said that he needed funds to get his own business out of the crisis. It took six weeks to humbug first money out from the victim. Soon, the woman suspected a trap and turned to the police, where they confirmed that Gary was a scammer. The woman said she needed the company after the divorce. The police figured out the fraudster by his fingerprint on a document that he had sent to his victim, arrested him and made him return the money.
419 scam stories
Nigerian dating letters have disappointed many people in the world. Usually, the victims of Nigerian letters are single people over 45 who search for their soulmates on the Internet. They are the most "tasty morsels."
An American retired military officer who wants to create a family is looking for a kind and understanding woman. In the correspondence, sanity is sedated with sophisticated compliments. It turns out that the soldier is ready to marry the single woman, but, unfortunately, his accounts, according to the contract, are frozen. He can send the screen of the bank account with a big amount of money there in order to confirm his words. That's why the woman needs to buy a ticket so that he can come and meet with her. Then, the trip is postponed for various reasons, but money is still required for a visa and for a room booking, etc. They can even communicate via Skype seeing each other.
A beautiful woman sends the first letter, trying to make contact. She does her best to maintain conversations, to seem an interesting interlocutor and just an attractive girl. In several months, she can take the first step, making a passionate declaration of love. Having no money, she makes a man send her money for all the expenses, connecting with their first meeting and their future "happily ever after."
If you face anything suspicious, don't hesitate to report 419 scam to the site administration. Letters from Nigerian princes have already become part of mass culture, but spammers continue to deceive their victims with the help of psychological manipulations and hacker technologies.