Top 10 Scams You May Encounter on Dating Sites
Posted by : Admin
Dating sites are meeting places for a wide variety of Internet users. The purposes of staying on such sites are different for everyone: flirt, communication, relationships, love or just dating without obligations. Many users become profitable targets for all kinds of scammers. What dangers await you on dating services and what to do if you become the object of attention of scammers? Jump4love has no scam and scammers. So, we share a complete description of this kind of people.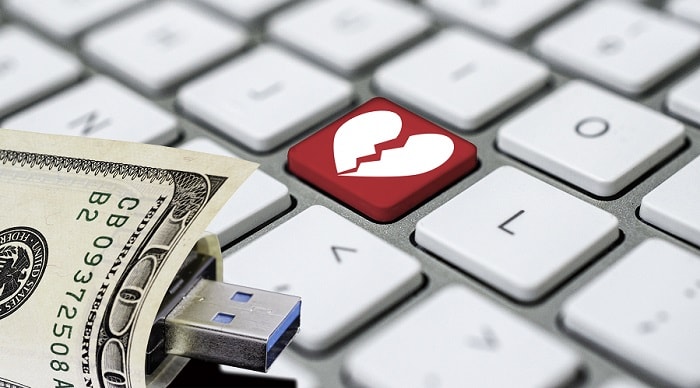 1. Nigerian Emergency Scam
The main task of scammers is to catch a victim from the first letter, telling a completely truthful story involving some little-known names of distant African politicians and businessmen. Here are some examples that Nigerian scammers like to use:
- you receive a letter from the charitable organization with a proposal for a voluntary donation of money to a non-existent church in Africa;
- you receive messages from girls on dating sites who tell stories that they are in forced emigration to Somalia due to a revolution in their country.
And in order for them to return home, they need a little money. It is very difficult to put an end to criminal Nigerian business. In the history of the activity of spammers, only a few participants in criminal gangs were caught and they were just small scammers.
2. Plane Ticket Scam
One of the simplest scammers on dating sites is a request for money. It seems that if a stranger suddenly begins an insistent conversation about money, we must immediately stop talking with him or her. But the vigilance of some users (fascinated by the interlocutors on the other side of the screen) just "disappear" at a certain point. And the victims of such banal scam are both women and men. As a rule, they don't ask anything until it comes to a real meeting. And if the "object" itself expresses a desire to fly to a friend, he or she is sent to a fake airline website. A victim will buy a ticket, but in reality, money will be sent to the pocket of scammers. Sometimes a dating scammer doesn't ask for money, but suddenly it turns out that he or she is arrested at the airport because of some ridiculous overlap (problems with luggage, an expired document, etc.). And now it is necessary to pay a fine, and, of course, a scammer doesn't have any funds. Well, then begins direct extortion or pressure played on your sympathy. This is one of the most popular Russian dating scams, so be careful!
3. Medical Emergency Scam
Scammers engage in romantic relationships with victims and then say that they are very ill or have fallen into another difficult life situation and ask for material assistance. They also may say that someone of the close people is deadly sick and the doctor prescribed expensive medications. You offer assistance, a scammer refuses at first, but he or she comes back to the site after a few hours and writes that everything becomes worse and agrees to material assistance. Well, hope you understand that if a person has problems, then you (a person from a dating site) will be the last person whom he or she can ask for help (if only this is not a scam, of course).
4. The Nigerian 419 Scams
Various subjects of Nigerian scams have long been well studied by law enforcement agencies of different countries. Nevertheless, even this doesn't prevent criminals from annually making hundreds of millions of dollars on unsuspecting victims around the world. Most often, letters from unknown recipients come on behalf of outstanding personalities: royal families, high-ranking officials or the richest businessmen from Central African countries (Nigeria, Zaire, Angola, etc.). For example, you may get the proposal to earn easy money by participating in a legitimate transaction of enormous sums from Africa to Europe. All that needs to be done is to provide an account through which money must pass and then be transferred to another European account. A small amount (from $100 thousand) can be left as a reward for the service. Preliminary, of course, it is necessary to pay a little cost for the mythical maintenance of the operation by an African bank.
5. Fake Police Scam
When chatting with girls on dating sites, men sometimes don't know that they are being deceived. When the deception is revealed, people try to immediately report it to the police. But let's say a scammer doesn't live in your country (but in Nigeria, for example), and you became a victim of Nigerian letters. You try to report to the Nigerian police about the incident, but policemen ask you to pay money so they arrest the criminal. You should understand that the police will never ask for money to catch a criminal. Search out the entire Internet, but find a way to contact the real police. Usually, you can contact through an official website and not just through emails.
6. Explicit Photos and Videos Scam
It happens that users of dating sites arrange hot video-meetings with their virtual lovers. Girls and young people send explicit photos and videos to new lovers or communicate with them in real time on Skype. And often scammers use these photos to blackmail their victims. The overwhelming majority of the victims are girls. But there are cases when men become the prey of scammers. But you can be sure that jump4love is free of scams like this one.
7. Lottery Scam
You probably received an email saying that you won a huge amount of money in the lottery, even though you never took part in it. This is one of the most popular scams on dating sites. Therefore, don't send your financial data to anyone.
8. Expensive Gift Scam
There are many stories on the Internet from men who trusted foreign brides from dating sites. A potential wife from Europe or America says to her future husband that her intentions are serious, and she is ready to give up everything, move to him and love him for the rest of her day. This correspondence is conducted for several months. A scammer comes up with a perfect story that, as a rule, her fate is tragic. A serious man, ready to pity and sympathize, quickly opens his heart and wallet to such a scammer.
9. Disaster Relief Scam
Millions of people want to help those whose life is destroyed by a natural catastrophe. Tsunami, tornadoes, earthquakes can leave people without means of subsistence. And many dating scammers successfully use this. You are not even aware of sending money to scammers. You will be told pity stories about how everything is bad in the country where they live, how they lost everything, problems with health, and so on. But despite all this, they spend time on dating sites. It's strange, right? This is just one of the online dating scams.
10. Business Investment Scam
Investment in business is also a popular scheme of scams. You can get a message to your mail, phone or on a dating site. For example, a girl with whom you chat may eventually start to involve you in some business. Of course, it's not possible to immediately understand whether this all is serious or not. But it's better not to invest your money in dubious business at all. And moreover, if the proposal comes from a stranger, it is better to block him or her.