How to Spot an Online Dating Scammer
Posted by : Admin
Online dating scams are thriving and gathering momentum. It can affect almost anyone who uses the Internet and dating sites especially. A victim is chosen randomly, it isn't necessary to have a lot of money or have low IQ level. In the case when a person is searching for mutual love and a life partner, it usually makes them be in quite a fragile situation than usual. The only thing that dating scammers want from you is your money, they don't care about your feelings or dignity, they are an insensitive mechanism that will use all possible ways to siphon your money. They treat your desire to become happy and find your beloved partner as your weak point and use it shamelessly. Everyone should find out and remember main things on how to spot scammers on dating sites and protect oneself.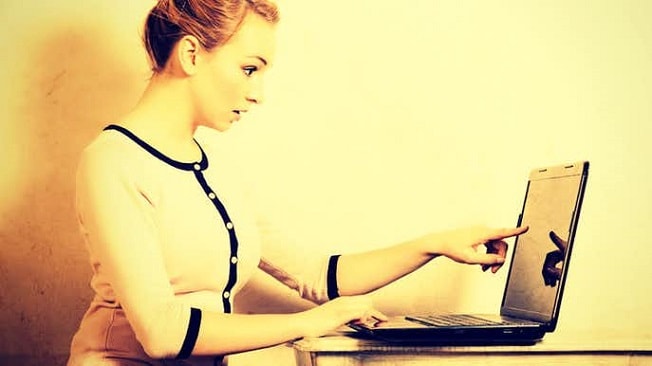 Are you older than your probable partner?
Online dating scammers usually choose older victims. Talking about male dating scammers, they prefer to focus on senior women after 40's to 60's, although there are exceptions when they choose younger age groups. They think that these women can become a perfect victim because they have more money and, at the same time, they have a soft spot.
Do you see the following information in their profile?
They have a profession and work somewhere abroad or maybe they are self-employed. In the line with marital status, you can find that they are a widower (with or without kids). They will most likely live somewhere nearby or at least in your country, they are just away now due to work or other circumstances, but they will come back very soon.
Do their photos seem to be real?
To be on the safe side, you should save their profile photos and check them with the help of Google image search. Do you find something? Maybe they are already indicated as a dating scammer or are illegal in any way. If you meet such a person you should inform the online dating site about dating scammer, providing the evidence with all website links. In such a way, you can check all the received photos, besides that you should pay attention to other signs that can pass off an imitation of the original. Look carefully at the background and other details of Photoshopping, or maybe something on the photos don't match the provided life story. The more attention you pay, the safer you will be.
Do you note some inconsistencies that are irrefutable proof of their lie?
Scammers on dating sites like to create some stories about themselves, they just come up with the whole life story, but sometimes they make mistakes. They may say goodnight to you because they will have to wake up earlier the next day, however, you see them online at least the next one or two hours. In another case, you may note the location divergences or something else.
Do you note mistakes in the letters?
If you look carefully at the received letters, you can find many different divergences that demonstrate you dating site scams in all its glory. For example, there can be unpleasant situations when your name is written wrong or instead of their own name you see someone's else. There can be a poor language with many spelling mistakes or grammar rules are not followed at all. They can make mistakes due to several reasons. First, they don't know the language. Second, they write such a story to many people and just confuse these different fictions. Pay attention whether all the pronouns are used right as well as some written details match the profile's information.
Have you already talked via phone?
Talking by phone can help set things right. If you have a conversation and you hear a slight Russian accent and used strange words, you might deal with Russian dating scams if the person is a "native American." It's high time to be suspicious. Don't be shy to ask some leading questions and determine the authenticity of your hunch. Pay your attention to the compliance of the phone number with the area of their living. Don't believe any stories that seem to be no more real than a unicorn.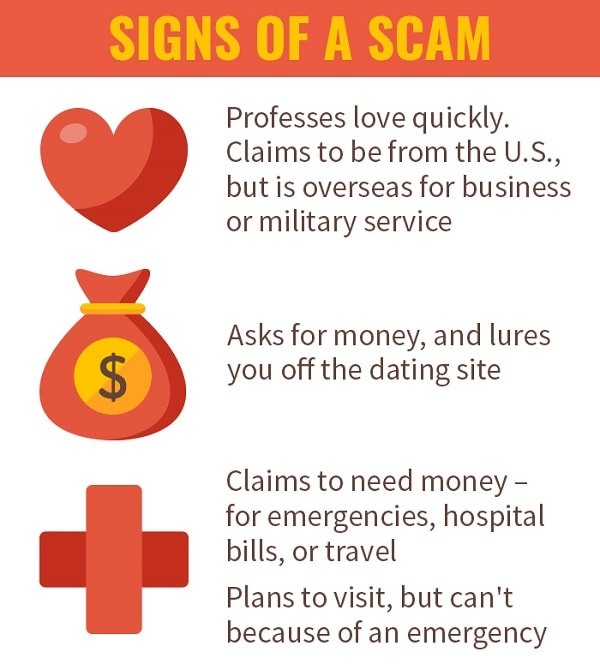 Have you already got a declaration of love?
You decided to register a month ago and now you are not sure whether you are faced with scams on dating sites. If a person demands your whole attention, suggests exchanging phone numbers and communicating off-site, be on the lookout and inform the site support about possible jump4love scam. As an adult and wise person, you should understand that it is impossible to fall in love after several text messages. Therefore, if you get a declaration of love or some other expressions of passion too soon, stay very vigilant. If you don't have a long-term correspondence or off-line dating, such expression of feelings should be a warning sign that you have faced one of the possible expressions of scams. You can help minimize jump4love scams by your vigilance.
What types of online dating scammers can you meet?
Small-time swindlers.
At a certain point, they start asking for small amounts of money under the pretext of "My money was stolen and I have nothing to eat now", "Internet traffic is almost over", "get sick, and, don't have money to buy medicine," and so on. After getting money, they either stop writing or continue to "keep begging", maintaining interest in different ways. Usually, they don't ask more than 40 dollars. Such people try to avoid any other communication except texting messages and ignore requests for new pictures.
Blackmailers.
These people specialize in gathering the compromising personal information about the victim and threaten to disclose in the case of not getting the demanded amount of money. Usually, victims are married people who are looking for relationships without obligations just for having sex. Scammers make people send them intimate pictures while they send back only fake, downloaded from the Internet.
Failed partners.
You cannot always understand whether the person is an origin foreigner or just a greedy acquaintance who is looking for easy money. Surely, they will create a story about what country they are from. After some time, they will write about terrible accidents, burglaries, illness and other different issues as well as about their sincere love to you. Only lack of money prevents solving problems and visiting their "beloved one."
Spouse in every country.
Some people offer their partners to move to their own country and start living together as a happy couple, they do that for a while and then disappear in an unknown destination. They start looking for a new "life partner", having robbed the previous spouse completely.
Too expensive vacation.
Two people are communicating on the Internet, one of them offer to go on vacation at a resort with a condition that both of them will bear the costs. They enjoy their joint vacation and relax completely, however, all the bills are signed by only one of them due to different excuses of another partner. At the end, only one person has to pay the common bill.
Sometimes it is very difficult to recognize an experienced scammer because they are well aware of a huge amount of enticement methods. Anyway, only you can protect your dignity and a bank account because their aim is only your money. You should always stay alert. Online dating scammers know psychology and know how to use it with you exactly.