Is Tinder Safe? Tinder Scam Stories
Posted by : Admin
Nowadays, using Tinder is a very popular way to get dates. Mostly, it is safe but there are many ways for you to get scammed. Is Tinder a scam? Definitely no, the percentage of scams is maximum 2-4%. You need to know how to avoid most common scams to get a real date. Don't lose your faith in Tinder because it is mostly safe and only occasionally dangerous for your wallet. You can lose money seeing as how most of the scams aim at it. Read the following guide to know all about Tinder scam.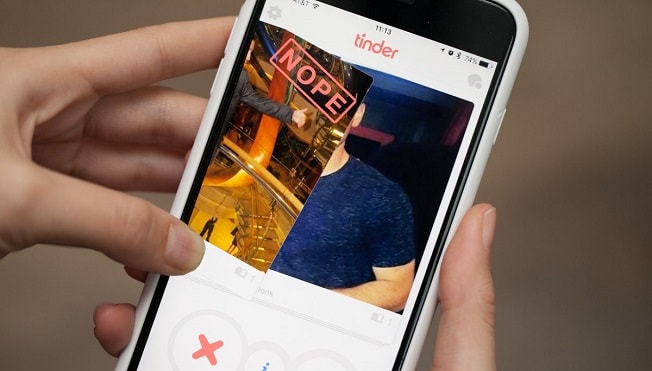 Is Tinder safe: Dating a Scam
There are many different kinds of scam on Tinder. All of them want to deprive you of your hard earned money giving nothing in exchange but disappointment. Not only money but your personal information and emotional health are in danger because fake Tinder accounts and their schemes deprive people of their faith in humanity. People who got scammed are very disappointed and frustrated thinking it is impossible to get a date.
Bots
There is a chance your match is not a real human being but a bot. It means that you're not talking to an actual person because the one who writes you is just a program. Bots are designed to say what you want to hear and take your money or personal information.
The best way to avoid being scammed by a bot is to carefully research its Tinder profile. The less information there is, the more suspicious you should be. Next, try to ask a match you think might be a bot some difficult questions.
Usually, bots are pretty obvious and too straightforward in their approach. It is easy to confuse them by asking about some detail on a photo in the profile. Finally, you can put some nonsense words in your messages that will ruin the sense of your message. A real person would ask "what the hell does it mean?" but a bot is going to leave it unnoticed and continue as if nothing happened.
Bots will try to redirect you to some other source or website. They can also ask you about personal information in order to manipulate you with it. Finally, bots can also be designed to make you use some other texting application in order not to be detected by Tinder safety measures.
Always try to get on a first date as fast as possible. Bots cannot meet you, so they will say they are not ready yet, busy, or absent in the city. Be suspicious if your match says too much good words to you. They are specifically designed to say what you want to hear. You will become flattered in order to become an easy target.
Human Scams
Tinder scam profiles can also belong to real people. These people do it in order to get money or information from you. Their photos are faked but it is really a human person writing you. They will say everything you want to hear.
Humans can pretend they are handicapped or in army in order to make you feel compassion. Usually, they pretend to be army officers or diplomats in order to explain why they can't meet right away. Fake army officers will say they need money to travel back or pay some debts to their army colleagues. They will promise to meet you right away after they return. These scams often ask you to send a money wire transfer to rob you or intimate photos to blackmail you.
Like bots, human scams also want to make you start chatting using different texting application like Skype or Viber. This way they make it easier to get through safety systems Tinder has. They will send you link to external sites that will ask you to buy costly subscriptions. For example, a classic Tinder scam text will make you pay something in order to get a date. A human fake will say that a date is only possible if you buy something because they depend on it.
Human scams are a lot more difficult to cope with. So, never give money even if your match asks for it or tell you can only give it in person. A fake account will refuse or come up with some arrogant lie.
The best way to avoid being scammed by a real person is to get on a first date as fast as possible. You should also ask a lot of personal questions because fake personal accounts are usually in a rush scamming dozens of people every day. The minute you hear something about money or using some other texting application, become suspicious and attentive. Avoid giving any personal information of real value like your credit card, address, job, etc.
Scammers always ask for relatively small amounts of money. If you say you don't have it, they'd tell you to give whatever you can give lowering the price of their scam to get at least something from you.
Tinder Scam Stories
Marie, age 42, with 2 kids and no close relatives to support her, was scammed in the following way. An army officer matched with her and told he cannot meet her right away because he is not yet in the country. He said he was going to retire in about a week and meet then. He said he wanted family to care about and can support Marie's two kids. Marie said she heard everything she wanted to hear, liked his picture, profile info, and respected him for being an army officer serving his country, a patriot. He asked for a wire transfer because his bank account was temporarily frozen. He said it was frozen because hackers tried to interfere with the army's payments. Therefore, he needed cash quickly to just get home and see her faster. Marie did send him 500 dollars. After that, the army officer disappeared. Marie was very disappointed and depressed declaring she will never use Tinder again.
Claire, 35 years matched with a man, whom she liked much. He was a very clever man saying everything Claire wanted to hear. He said he had problems with health and needed money fast to deal with it. Claire was compassionated and wanted to help, so he played on her kindness. She send him a money wire transfer and the man disappeared right away. She was so disappointed and frustrated she stopped dating for months because of the emotional trauma, not just lost money.
Mark, 40 years, matched with a girl he liked. She asked for a nude photo of Mark and he was not clever enough to refuse her because she said she was really into him. She also said she'd sent him her photo too and did it. But just as she was fake, the photo was also a fake. After Mark sent a photo a fake match started to blackmail him saying that she will put the photo on the internet and show it to all Mark's friends and relatives. She disappeared after Mark paid her 300 dollars.
All in all, now you know what kinds of scams exist on Tinder. You can be fooled by bots or by a real person. They will always ask you for money or will try to get personal information. Follow the provided advice on how to avoid scams in order not to be fooled. Always try to get on a first date as fast as possible. Carefully research the profile and have a serious smart conversation with your match, don't just do small talk. Never follow the link to external sources or agree to use other texting applications like Skype or Viber. Don't give your phone number or personal info. Fake Tinder accounts will use your info against you to blackmail you for money. Finally, you need to be attentive and careful looking for the little details which can prove that you're talking to a fake, not a real match who wants a date. Be extra careful and observe every detail in the profile of people you match with. Get a real date and don't give any money until you actually see a person you matched with. Good luck!