College Admissions Scandal: Names and Details
Posted by : Admin
What can be more important for a country than education? Heath care? Strong military forces? A good and fair education system. Well-educated people will give a country modern health care, strong military forces, and everything else. In 2019 we were shocked when the largest college admission scheme was revealed in the country.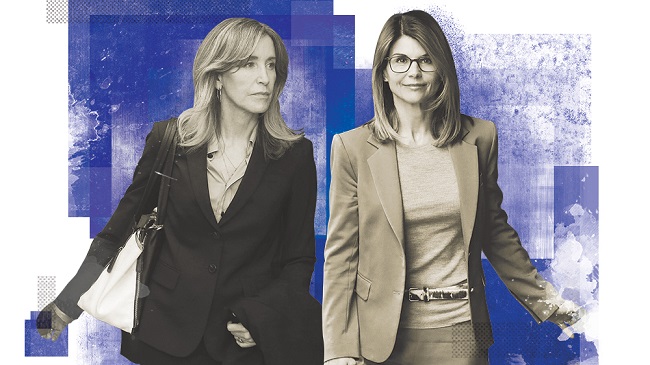 If features 50 defendants from six states. Millions of dollars were illegally used to get bonuses for those who don't deserve them in several top universities of our country. This college admissions scandal showed that a fraudster doesn't need to plan complicated schemes to get what they want illegally. So, is our education system secure and fair enough? And what about the latest college scam updates?
First of all, this is not the only college scandal but definitely the biggest one. Secondly, as a result of this college admissions scandal, a total of 50 people were charged concerning this case. They were charged for cheating on standardized tests, bribes and pretending that they send money on charity. Among those people, we can find two SAT/ACT administrators, nine coaches who work in elite schools, one exam proctor, and a college administrator. Plus, 33 parents. They decided to ease their children's lives but never got what they wanted, at least now in the way they expected to. Thus, there is no reason to panic. However, we still want to find out how this scheme worked.
Cheating With SAT/ACTs
Needless to say that those students who have better results at ACT/SATs have better chances to get into colleges they want. With this fact in mind, we can clearly see the parent's intent to raise their children's chances to get into particular colleges. As we all know, if there is a demand, there will always be someone who will try to provide supply. In our case, this person was William Rick Singer, who facilitated cheating for those who could pay for it. Surely, wealthy parents couldn't resist when they saw this opportunity. A very simple, but, at the same time, effective college scam.
How Did William Rick Singer Manage to Do This?
According to our sources, he couldn't or didn't want to do this alone. So, he connected Mark Riddell, who agreed to secretly take the test instead of students, or replace their results with his own. Another interesting fact about this part of the college admission scandal is that Mark Riddell couldn't do this unnoticed. Test administrators must have seen at least something, right? Well, wrong. As we know today, William Singer bribed them. Two SAT and ACT administrators in Los Angeles: Igor Dvorskiy and Lisa "Niki" Williams are accused of accepting bribes. Also, they both were accused of plotting to commit racketeering.
How Much Money Did He Charge for Cheating With SAT/Acts?
Parents who decided to participate in this college scam had to pay between $15.000 and $75.000. Furthermore, those are prices for each test. Thus, the final price could be much higher. However, in the case of Felicity Huffman, it was $15.000. She is accused of paying this amount of money to a fake charity founded by Singer. Huffman did this to help her daughter score more on the SATs. We know about this because Huffman and Singer discussed this during a phone call. As you might have guessed, the phone call was recorded.
Bribes to Coach for Sports
When talking about college scandal admissions, we can't omit to discuss cases of bribing coaches for sport. As you may know, in our country, college coaches don't directly decide whom a college should accept into their university. However, they can make a recommendation to the admissions office to accept some individual athletes. Surely, Singer knew about this. So, his next step was to try to bribe athletics officials and coaches who work in desired colleges. In exchange for his money, they had to make recommendations to admissions officials to accept certain students. In most ridiculous cases, some students didn't play sports at all or had fake athletic certificates.
The singer confessed that he used to bribe coaches for sports. Also, in his confession, he claimed that he used to do it quite often. The case of Lori Loughlin, probably, is the most famous part of this college admission cheating scam. She and her husband Mossimo Giannulli (a very widely known in the fashion world designer) were charged with conspiracy to commit mail fraud. Generally, the couple paid more than $500.000 to bribe different officials to have their two daughters to become recruits to the University of Southern California crew team. As a result, their daughters were recruited as coxswains. However, they have never participated in the crew.
To do this, Lori Loughlin and Mossimo Giannulli sent Singer photos of their daughters. On those photos, girls were working on an ergometer. In simple words, this is a rowing machine. In turn, Singer bribed Donna Heinel, who, at the time, worked as senior associate athletic director at the University of Southern California. As you may have guessed, she was the one who was responsible for recruiting athletes into a team.
Fake Charity
As you can see, this was a very large college admissions scam. Thus, it wasn't possible to work only with cash as regular scammers do. For this very reason, Singer tried to hide bribe payments with a fake charity. He created the Key Worldwide Foundation. Claiming that this non-profitable organization exists to help poor kids. Unfortunately, the greater part of the money raised by this organization was used to bribe athletics officials and coaches. Consequently, this organization, with its ideas, was only a front and served to help Singer launder the money he received from parents.
What Was the Main Response?
No doubt that such a big college admission scam couldn't be unnoticed. When the truth was revealed, the NCAA announced plans to review the current allegations. They said that they need this to determine the degree to which their rules may be violated. Immediately after the scandal, U.S. Senator Ron Wyden (D-OR) shared his plans to make donations to schools taxable in cases when donations are for children who are applying or attending the college. Also, two other senators (Johnny Isakson (R-GA) and Chris Coons (D-DE)) agreed that together they would introduce a famous 2017 legislation that imposes a fine on universities and colleges that have a very small proportion of students with low-income.
In turn, we hope that all college admissions scandal names involved in that will be punished. Thankfully, immediately after the scandal, we can see how people still fill lawsuits against individuals and universities. For example, three brave students from the different educational institutions filled a complaint against Singer and all affected universities. Additionally, one parent filed a $500 billion civil suit in San Francisco. He claims that his son had no chances to access affected universities because of bribes.
As you can see, even the wittiest scammers sooner or later will have to pay for their crimes. Thus, even though Singer's account estimated to worth more than $5.2 million, it was immediately seized by the Feds. Due to this fact, his brother decided to post the $500.000 bond. In turn, Singer may spend approximately 60 years in federal prison.