The Image of a Romance Scammer
Posted by : Admin
The most popular tactics of romance scammers
Expensive gift
After several weeks of communication and stormy correspondence with all sorts of love confessions, a potential partner sends an expensive gift to their victim: a smartphone, a laptop, or a piece of jewelry. Then a scammer "accidentally" forgets to pay for the delivery, as a result of which, a gift cannot reach the addressee, and a scammer offers a victim to pay for the delivery themselves. Who would refuse to pay a couple of hundred dollars for an expensive laptop, given that a person promises to return this money at a meeting?
A victim gets a link to a delivery service website, but after sending the required sum of money, a fraudster disappears along with a non-existent gift.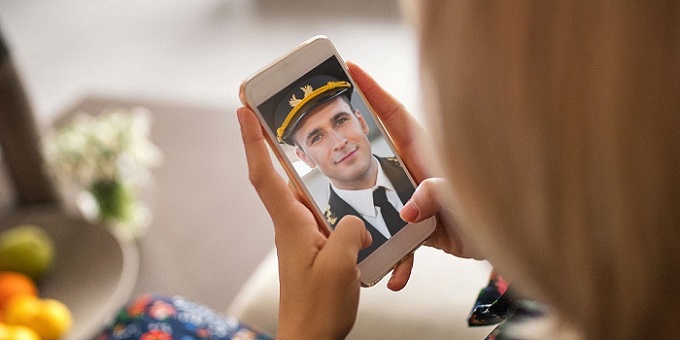 Despite the fact that recently, the effectiveness of this method has decreased, an expensive gift remains one of the fastest and most popular ways to fool a person. In addition, it has recently been improved upon: now, as a gift, a scammer can send a bouquet of flowers or a souvenir, and they will also mention that they've attached a sum of money to cover unexpected expenses. A payment that they have to receive with such a gift is relatively small, so people do not suspect anything.
Airplane ticket
If in the course of your relationship there is an idea about joint vacations, at some point, they will offer you to finally have that long-awaited meeting. As a rule, a scammer comes up with various excuses like a blocked account or the lack of an ATM nearby to force a person to pay for both tickets. At the eventual and long-awaited meeting, they will surely give all of the money back and then some.
As a way of helping you with this process, they send you a link to a fake ticket booking service. The money for these tickets will go to scammers and their victim will be left with nothing.
Do not fall for the bait, even if the tickets on such a site will be much cheaper than those that you have found. It is better to overpay than to lose money altogether.
In trouble
There are also various long-term online dating scams. For several months, a scammer will correspond with their victim, even make an appointment and buy all the tickets themselves, but, at the last moment, the long-awaited meeting falls apart because a person is in trouble: they are either arrested, not released from the country without paying a fine, they have been rushed to a hospital with something very horrible, and so on. There may be many different situations like that, but still, what is a scammer? It is a person who is trying to steal your money and will do everything in their power to do it, no moral limitations or any sort of rules.
Rules of conduct
Here are some signs of a romance scammer and tips on how to avoid their tricks:
1. If the first thing a person does is trying to get you to switch to e-mail communication – you are probably talking to a bot, it is easier for them to operate this way.
2. Google romance scammer photos. Most likely, the truth about their identity will be immediately revealed - either on Wikipedia, a page of some handsome Hollywood actor/actress; or on a special site where scammers are exposed. Such sites will give you a lot of valuable information about your new friend.
3. Suppose you weren't able to find their photos online. They look like a normal person. Explore their social network page. If there are three photos, five friends (all of them are of the same gender as you are and from the same country as you are) and not a single normal post on their page, this is a bot.
4. A reasonable person will not tell you everything there is to know about them, the most personal of details, the most important moments of their life: the loss of loved ones, the betrayal of their ex, let alone do it in the first few messages. If they do act this way – they are either a scammer or a psychopath. Moreover, they should not send you the documents - their contracts, diplomas, and so on. Also, when it comes to questions to ask a romance scammer, if you are still unsure whether or not you are talking to a bot or not, ask them a convoluted question. A hard question will most likely cause an unusual response, an answer that will probably not match the topic of your conversation at all.
5. Suppose you started to communicate and you've spent some time with them online. If a person asks you not to call after seven in the evening or gets out of Skype when you call them - this is a reason to be wary. Perhaps they are married, or maybe they just want to allocate time for their other victims.
6. On a request for money, be unambiguous in your reply, tell them that there is no money. Or there is, but "I have a rule - not to give money to strangers." If this is an extremely unlikely case when an honest person addresses you in a difficult situation - they will just forget about this situation and continue on communicating with you, they won't end a relationship with you because of that. In the end, they were able to solve their problems before meeting you, what's different now?
That being said, if we want to find out how to catch a scammer, we need to know a few things about their behavior and tendencies.
A psychological portrait of a scammer
Right from the get-go, the most noticeable thing will be their attitude towards you. It's as if they were dreaming about you all of their life.
To those of us who are not aware of romance scammers at all, such messages would sound very intriguing, they will feel as if they've just got into a beautiful dream, they've met a beautiful person that has fallen in love with them from the first sight. But, of course, this is just a way to use the emotions of such people against them.
They are trying to present themselves as lonely, honest, caring, loving etc. To a reasonable person, such an introduction will come off as bittersweet, it just doesn't sound that natural.
They will regularly text you and talk about their feelings, your lack of interest won't be that much of a roadblock to them, they will try to prove their love with all sorts of nice words and compliments.
Most of your questions will be left unanswered or ignored. Naturally, this is because they are disguising themselves as someone else, it is better for them to focus on your beauty than on themselves.
Here is the most important part, they will always try their best to talk about money. They know that a straightforward question like "How wealthy are you?" won't cut it, so they will be a bit more careful than that.
And, of course, they will tell you all sorts of beautiful things about your common future, about your eventual meeting and marriage. They will do their best to suck you down that dream-like state, they want to you feel like you've finally found that person you had always been dreaming of. A male scammer will probably disguise himself as some wealthy captain or an admiral and promise you everything there is in the world.