Is Clout Pay Legit?
Posted by : Admin
According to the latest surveys, people spend approximately 5 hours per day on their phones. Surely, some people use their smartphones for work, but the majority of this time, people browse webpages, social accounts, or text messengers. Also, we can't forget about videos with funny cats. Surely, this causes no harm to our normal lives because we have jobs, families, kids, and so on.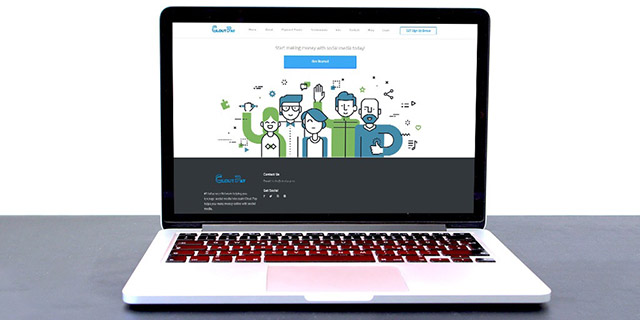 However, more and more people get concerned about wasted time. Furthermore, the ability to earn money while relaxing is everyone's pipe dream, isn't it? For this very reason, it was just a matter of time when we would see people who claim that their services help people earn money online while relaxing. In fact, those people had invaded our lives a very long time ago, and today we are going to talk about one of the companies that claim to be profitable for their users. Yes, we are talking about Clout Pay.
Probably, you have already encountered their aggressive advertisement and now wonder whether this is actually a legitimate program or just another scam. To be honest, the idea of earning money while relaxing with a phone has caught our minds too. So, we decided to launch a small investigation on Clout Pay. So, is Clout Pay legit?
What do they claim to be?
They claim to be one of the best influencer networks available for common people. Also, they say that the main purpose of their existence is to help people to earn money by performing simple tasks on social media. Furthermore, in their advertisement, they persuade that they don't charge any money from their users when they create accounts. This approach helps them to attract more users, but we will talk later about this.
Here is how they explain their working algorithm in their advertisement. When a person signs up, they reward him or her with a bonus of $25. Sounds good, right? After all, you have just registered and already earned money. Promising, isn't it? Also, they mention that their users make more than $500 per day. Furthermore, they have a built-in referral system (should be a huge red flag on its own). Thus, you will receive 10$ on "your account" for each person who follows your referral link. So, they persuade that you only need to get registered and then, by swiping, you will earn real money.
So, what is Clout Pay?
In short? Clout Pay is a scam. Here we will explain how it works and later will show you reasons why you should never use Clout Pay scam services and programs. In real life, they are just another online phishing schemes. The real purpose of their existence is to steal information from their users. They steal everything: your bank details, contacts, and names from your phone book, passwords, and so on. Yes, there are many people who are willing to pay for such sensitive data. Of course, to use it other scams and criminal schemes.
So, what is the potential harm of using Clout Pay? First of all, those scammers who will buy your sensitive data from Clout Pay may use it to send you spam messages, various notifications, or fake rewards to make you send them more. Furthermore, you may receive annoying spam-marketing calls. And these are very small examples. Thus, in the worst-case-scenario, they may steal your money by gaining access to your bank credentials. For this very reason, you should always use only trusted websites. For example, if you want to find a girlfriend, you can just google: "jump4love scam" and will see that this is one of those trustworthy dating websites. The same approach can be applied here. For example, you can read some Clout Pay reviews.
The main reasons why Clout pay is a scam
Unfortunately, chances are high that the majority of Clout Pay reviews are made by bots. Sad but true, today, you can't rely only on reviews, even if people who review something show their faces on videos. They could be paid actors or random freelancers who have found this job on some websites. In this article, we claim that by creating a Clout Pay login, you will put your sensitive data at serious risks, but we expect you to trust our words. In fact, we want to share with you a way how you can check every single offer on the market. So, let's begin.
1. Referral system
An active and generous referral system is the first thing that should attract your attention. You see, all spongy schemes have built-in referral systems because a generous referral system is the best way to make other people advertise your scam project. Thus, it is better to avoid clicking on all those links that people spread on social media.
2. A generous offer
If you see that the majority of similar offers and not that generous when it comes to money, then you definitely see a scam project. Clout Pay claims are absolutely unrealistic. A normal GPT website simply doesn't have so much money to pay to their users. For example, everyone who just joins, from the very beginning, earns $25. This approach would bankrupt a normal GPT website in days.
3. "Fake money"
If such offers would bankrupt any real GPT website in days, then how Clout pay manages to survive? We also claimed that Clout Pay reviews are bought, but how do they pay for all this? The reason why they thrive is that all those money on their website is fake. They can show you billions on your account, but you will never be able to cash out that money because it is a fake. That money exists only to make you believe.
4. Unknown owners
Before creating accounts on any website with job offers, you should check their owners. Thus, every reputable and genuine company will provide information about its owners. The reason for this is because they have nothing to hide. Also, you will easily check those owners too. In turn, when it comes to Clout pay, you won't be able to find real owners of this service. In addition, in some cases, scam projects create "fake owners" by stealing pictures of other people. Needless to say that these bot situations are huge red flags.
5. Wrong information about the service
If a person who created Clout Pay doesn't want to show his or her face, then there has to be a serious reason for this, right? Yes, there is a huge one. Almost every bit of information that you may find on the Clout Pay website is fake. They lie regardless of everything. For example, scam projects always lie about the real number of their members and people who were paid out.
6. Fake comments
It is true that it is very hard to spot fake comments. So, how did we manage to do this? You see, when the product is real, there are always fans and haters of it, but also there are standard users, who may be satisfied only partly. Thus, you will see a whole spectrum of reviews. In the case of scams, reviews are either positive or negative. As you have guessed, only bots and those who want to have additional referrals write positive comments about the Clout Pay service. In turn, their victims and everyone else, write negative ones.
When people use websites such as Clout Pay, the only one who gains money are owners of those websites. Common users are either forced to pay and then never have their money back or will waste their time while scammers will be stealing their sensitive data. We hope that our small guide on how to detect a scam project where we used Clout pay as a great example of one, will help you to avoid those schemes in the future. Remember, if you should always use trustworthy websites. Just like in the case with online dating, just google "jump4love scams" or "Clout Pay scams," and you will see the difference. You will find many articles about jump4love where real people share about their positive experience with this website, while about Clout pay, you will find only fake or smashing ones.